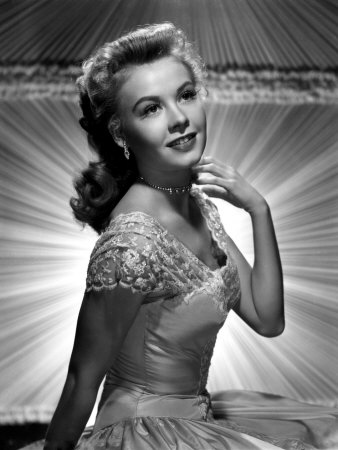 She partnered with the likes of Gene Kelly, Fred Astaire, and Donald O'Connor. She was part of such musical classics as On the Town, White Christmas, and Three Little Words. She was a capable and beautifully natural actress. And she died in seclusion and without fanfare at the age of 60. Vera-Ellen was the greatest and most versatile dancer of her generation, and she still to this day is not mentioned among the likes of Cyd Charisse, Ann Miller, or Eleanor Powell. So, this blog is for you, Vera, the most underrated dancing genius in film history.
Anyone wanting a definitive biography on Vera-Ellen will be hard-pressed to find one. One excellent source, however, and an evident labour of love, is David Soren's "
Vera-Ellen: The Magic and the Mystery
." It's an in-depth, chronological account of her life, complete with rare pictures, critiques of her movies and her acting and dancing in each film, and personal details (she was one of the first celebrities to battle obsessive compulsive disorder and eating disorders) as well. Soren's book is the best source out there, and the fact that the author had to go through an independent publishing company to get the book published goes to show you how underrated and under-appreciated Vera-Ellen remains.
As evidence that Vera-Ellen gave us some of the most beautiful dancing moments to ever grace our screens, here are some of my favourite Vera-Ellen movie moments.
Donald O'Connor once said that Vera-Ellen was the best dancer he ever danced with, and did his best routines of his career with her in
Call Me Madam.
Their upbeat and effortless dance to "Something to Dance About" is proof positive of all of his statements. Sheer magic.
It's almost impossible to believe that two human beings could dance like this. Vera and the magical Fred Astaire dance to "Thinking of You" from
Three Little Words.
Why this isn't hailed as the most romantic dance of all time is beyond me. They defy gravity, Vera floats and twirls effortlessly, and you can't help but get lost in the beautiful dream that is this dance.
Vera-Ellen was most proud of the "Slaughter on 10th Avenue" dance with Gene Kelly from
Words and Music
than anything else she did in her dancing career. And she should have been. This was Vera's first film at MGM, and Kelly's choreography was her first chance at showing what she was capable of as a dramatic dancer. Kelly and Vera-Ellen are one of the great dancing teams in movie history, and this is their highlight.
This is but a mere sampling of the brilliance that Vera-Ellen brought to the screen. If you haven't seen Vera-Ellen in a movie, you must watch her. She is charming, down-to-earth, and then once she starts dancing, you won't be able to help yourself: you'll fall in love with her.